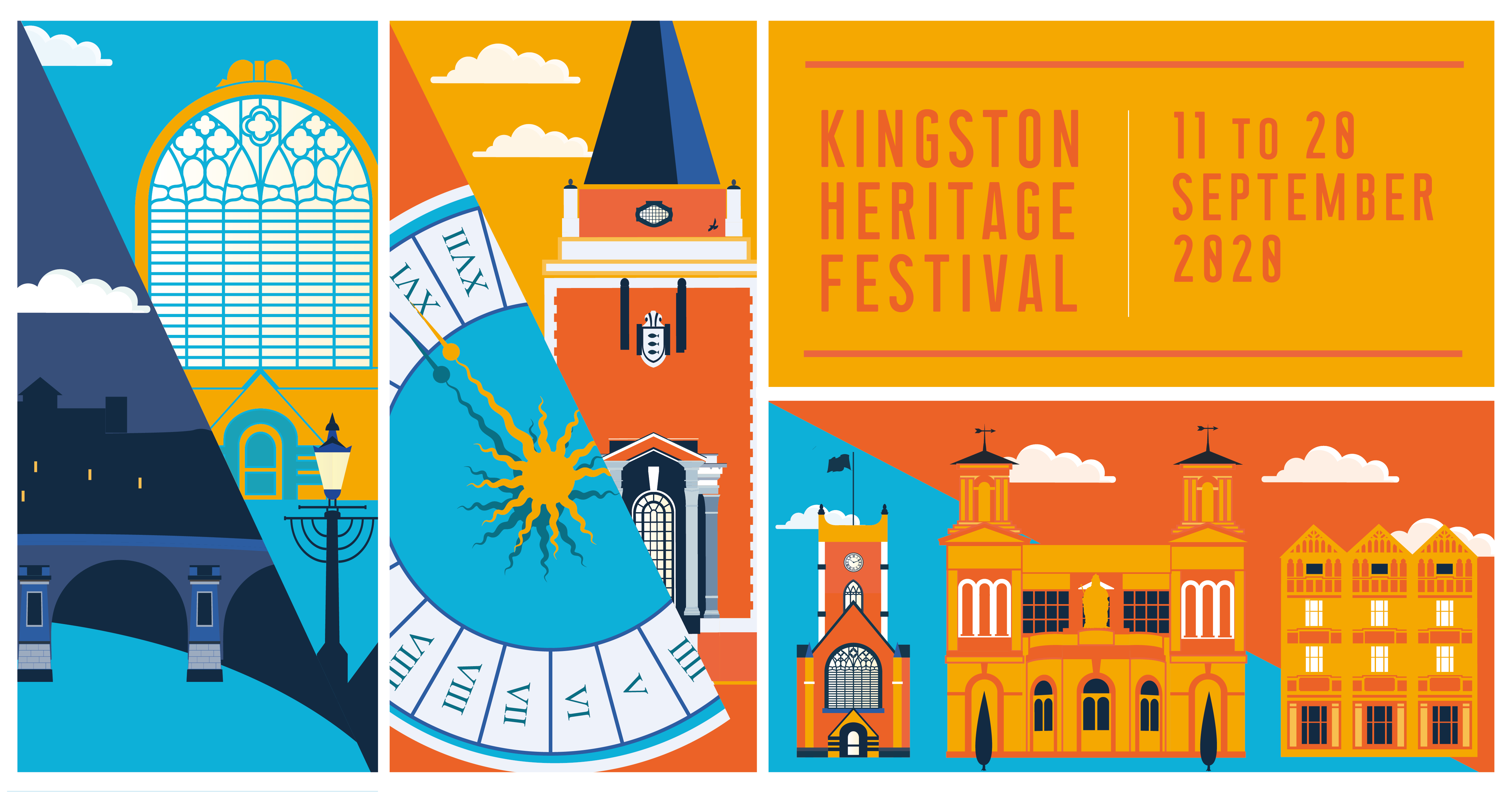 What is Kingston Heritage Festival?
For ten days this September, you are invited to delve into Kingston's heritage with a series of Open House and Heritage Open Days, talks and walks, and plenty of online content celebrating the borough's rich 1100-year history, all of which are free to explore!
While many of the borough's buildings won't be open as usual due to the Covid-19 pandemic, four stunning churches have opened their doors and Kingston Tour Guides will be delivering short socially distanced talks in both Kingston and Surbiton. Meanwhile, partners, volunteers and heritage staff have been working hard behind the scenes to bring history to (virtual) life and to celebrate the diverse cultural heritage of the town.
We've also compiled a selection of walks and trails you can do at your own leisure, from urban strolls to longer walks discovering our beautiful Royal Borough of Kingston which you can find out more about below.
Kingston Heritage Festival is organised by Kingston Heritage Hub. Kingston Heritage Hub is a borough-wide network open to all local heritage groups and individuals managing heritage projects, it is an initiative set up by Kingston Heritage Service with Kingston First and the Kingston-upon-Thames Society. This year Kingston Heritage Hub would like to thank Kingston University and Kingston Council for funding Kingston Open House.
Event Feedback
Thank you to everyone who joined us to celebrate Kingston Heritage Festival 2020. This year was very different to previous years as we went digital in response to the COVID-19 pandemic. We would love to hear your feedback, what you enjoyed and what you would like to see done differently in the future so that we can continue to improve our events and content.
Kingston Heritage Festival Programme
Read below to find out about some of the great activities we will be hosting both online and across the borough as part of this years festival! The full Kingston Heritage Festival Programme is available from In Kingston.
Open buildings and talks
The COVID-19 pandemic has made the opening of buildings to the public very difficult this year. Despite this a few buildings in Kingston have managed to open their doors. See here which buildings are open and when.
Virtual visits
Many of the buildings in Kingston which would normally have been open for the Kingston Heritage Festival, Heritage Open Days and Open House have made virtual guided tours, all available online. Join them and you might see things you wouldn't be able to in person. Enjoy a visit without leaving home.
Online talks
Heritage projects
Many different organisations in Kingston work to preserve heritage in the borough. Heritage can be anything from architecture and landscape to social and cultural events. These are just a few of the many projects that have been active recently. Watch and enjoy some of the fascinating videos and perhaps you too could join in. Click here to see a selection of these projects.
Children's activities
View some of the events and activities hosted by Kingston Museum and Kingston History Centre as part of our family learning programme. All the activities revolve around the heritage of Kingston.
Our Kingston
We have asked people from all walks of life in Kingston to give us their views on what heritage in Kingston means to them. Identifying and celebrating what is uniquely special about our borough and its people, locales, traditions and institutions. This will help us all discover, record and share the new stories occurring all around us.
Walks and trails
Kingston Heritage Festival includes the national Heritage Open Days whose theme this year is Hidden Nature. Take a walk along the Hogsmill or cycle around the borough to find some of this nature in unexpected places. Several of the walks and cycle trails listed here have been produced in collaboration with Kingston Heritage Service and local partners over the last few years.*
*Information was correct at the time of writing but we cannot be held responsible for any inaccuracies that result from changes to the routes that occur over time. Walking and cycling, like all outdoor activities, carry a degree of risk and we accept no responsibility for any loss or damage to personal effects, personal accident, injury or public liability whilst following these trails.