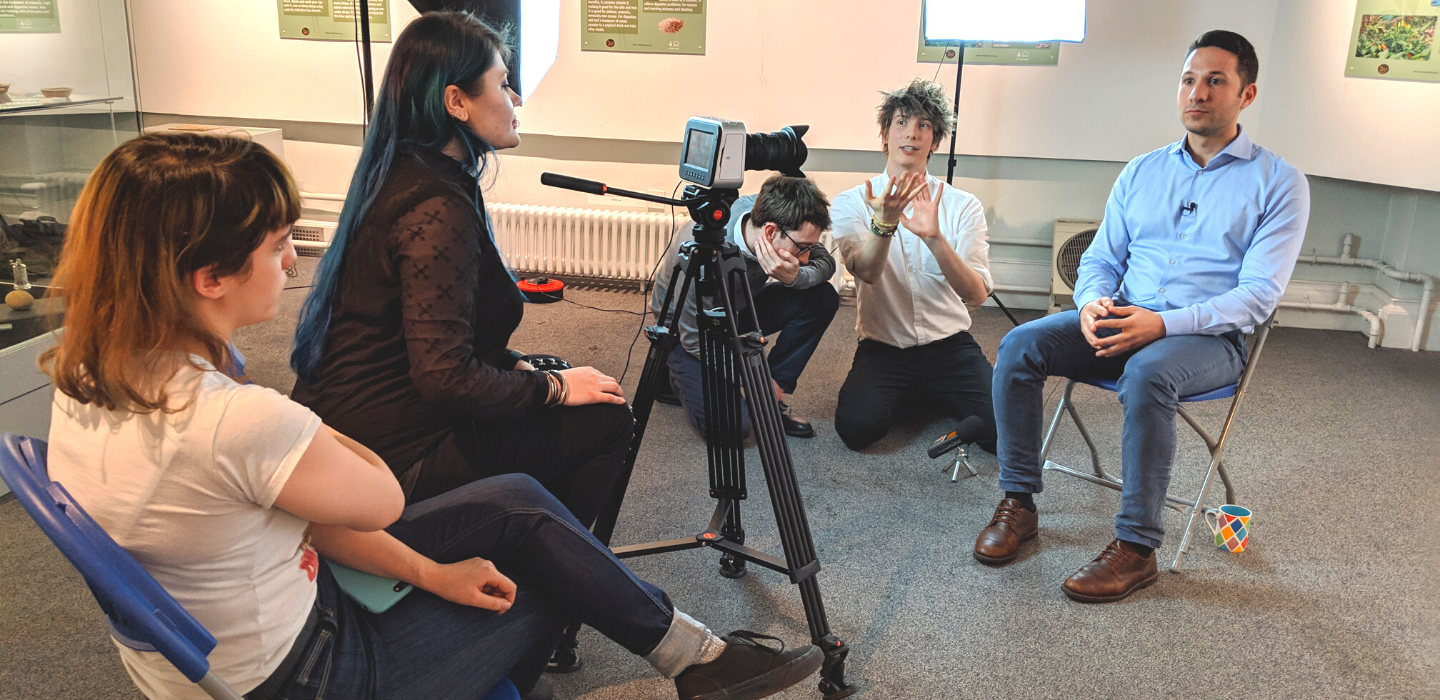 This page has been written by our Young People's Collective.
Kingston Museum's Young People's Collective is a space for young people (aged between 16 and 25) who are passionate about local heritage and sharing it creatively. We lead and develop our own projects related to the heritage of Kingston and surrounding areas, working in partnership with the Heritage Service and its staff.
One of our core aims is to support people aspiring to arts and heritage careers, by making connections and gaining relevant skills that will support them in the future. For example, our members have gained experience curating exhibitions, running local history tours, and in editing and videography, to name a few. Equally, we enjoy sharing our skills and experience with other members of the Collective.
How to join
We meet on the last Saturday of the month in person. Membership is open to all people aged 16 to 25, and those older than 25 are welcome to join us as mentors to younger members. You do not need any prior experience or qualifications to become a member, just an interest in heritage and meeting like-minded people.
To find out more, please email kingston.museum@kingston.gov.uk.
Current Projects
We have recently launched a new history podcast Culture In Kingston. Bring history into your living room, and let each episode take you on a virtual tour of a piece of Kingston's heritage. Written, created and recorded by Kingston Museum's Young People's Collective
Past projects
Currently in its fifth year, the Collective has produced a variety of projects inspired by the interests of members. These have included:
Members of our Young People's Collective researched, written, recorded, and edited short films exploring different aspects of Kingston's history. These will be showcased at Kingston's Heritage Festival in September 2020.
'Ink in Kingston' Exhibition at Kingston Museum
Conceived, developed and facilitated by members, this exhibition celebrated the tattoo culture of the borough. Featuring historical information alongside contemporary photographic and illustrative responses to tattoos, the exhibition displayed the history of the art and explored modern practices. Several events ran alongside the exhibition, including a drawing session featuring tattooed models.
'Sensory Kingston' Exhibition at Stanley Picker Gallery
Members created sound recordings of contemporary spaces in Kingston to illustrate the history and legacy of familiar environments in an alternative medium. Their work was displayed alongside that of sound artist Yuri Suzuki in a pop-up event at the Stanley Picker Gallery in March 2018.
Creepy Kingston walk
Taking place at Halloween, we researched spooky stories related to the Kingston area. This informed a guided night walk around Kingston, telling the stories in the areas in which they happened. There were tales of hauntings, hangings, highwaymen and even a witch, who was put to death in the medieval marketplace.