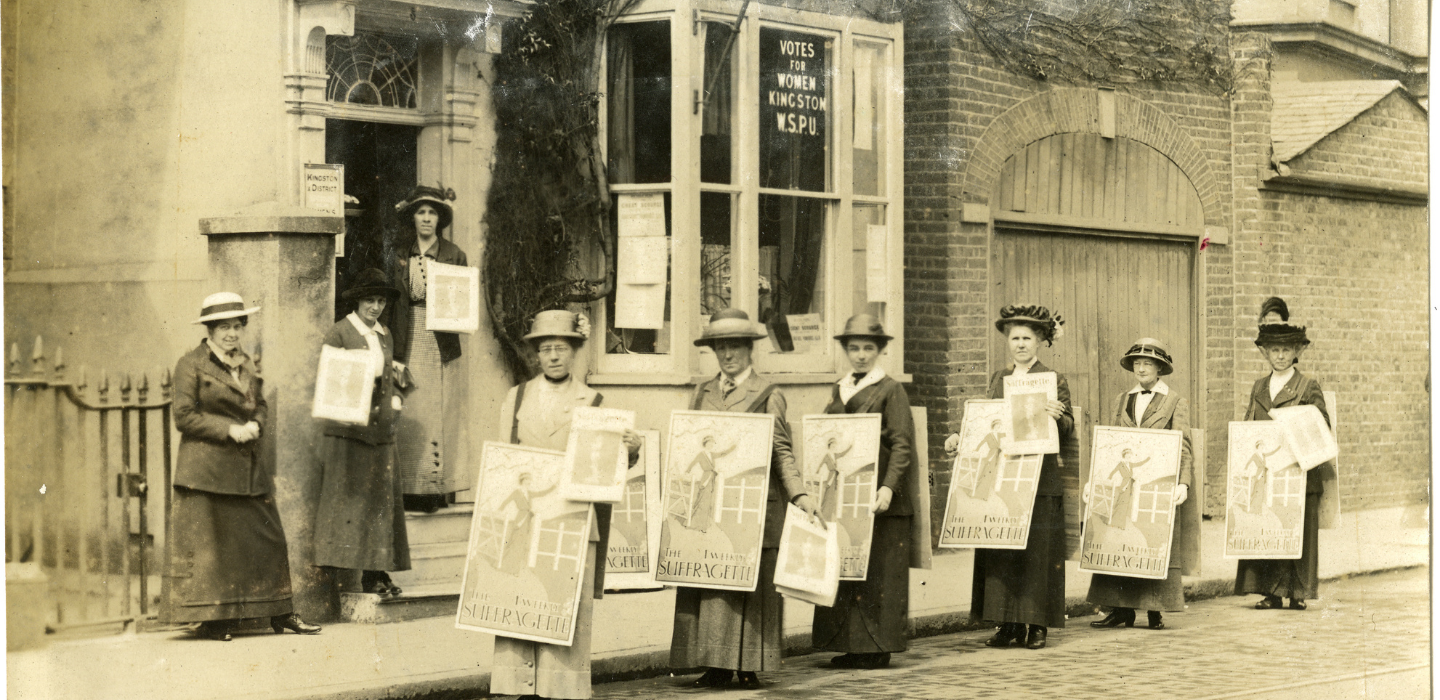 In 1832 women were formally denied the right to vote as part of the Great Reform Act. Before 1832 the right to vote was based on property ownership regardless of gender. At the time women had to pass ownership of property to their husbands when they married, largely reducing the number of women able to vote.
Agitation for suffrage intensified at the start of the 20th century, and although more suffragette activity seems to have been centred around Wimbledon, which had a long-running WSPU shop and Hampton Court, which was home to prominent suffragette Sophia Duleep Singh, an Indian princess and favourite of Queen Victoria, there were certainly suffragettes active in Kingston upon Thames. Kingston briefly had its own WSPU shop at 53 Eden Street, but the information we have available on the branch today is limited. WSPU stands for the Women's Social and Political Union. The shops sold cards, newsletters, and other small gift items to raise money for the suffragette cause.
Much of the action in Kingston took place before the start of WWI between 1913 and 1914, due to Parliament's abandonment of the Franchise Bill in 1913, which would have allowed for women's suffrage. Due to Kingstons Magistrates' Court and rail connections with Waterloo, Kingston hosted the trials of suffragettes and was sometimes targeted by attacks. On June 8 1913 two suffragettes burned down the grandstand in Hurst Park in West Molesey, causing £10,000 worth of damage (in 1913 money) and were put on trial in Kingston. The women, Kitty Marion and Clara Elizabeth Giveen, were both well-known suffragettes.
Marion had emigrated from Germany as a teenager, and found work as a music hall performer, where after finding she was overlooked for jobs because of her refusal to give sexual favours to men, she began standing up for the rights of actresses, which led to her involvement with the WSPU. Giveen was from Ireland, and allegedly joined the WSPU after moving to London and seeing women being mistreated by police at the 1910 Black Friday demonstration. Giveen and Marion burned down the grandstand as retaliation for the death of Emily Davison at Epsom Racetrack, which had taken place four days before their arson attack.
Giveen and Marion were caught due to their allegedly suspicious behaviour of entering the house of a friend at 3 in the morning, and being found in bed fully dressed. They were sentenced to three years of imprisonment with hard labour, though the women said they shouldn't be sentenced at all by a jury of men as it was not a trial by their peers. In response to the sentence both women went on hunger strike and were released from prison a few weeks. The release came under the so-called cat and mouse act issued in April of that year, allowing women to be released from prison to regain their health after hunger strikes, only to repeat the process once they were stronger. Marion was force fed over 230 times before being released, a method widely regarded as a form of tortue due to the poor administering of food. Both Giveen and Marion managed to avoid serving out the whole of their sentences. Marion emigrated to America at the start of WWI due to anti-German sentiment, and both were awarded the Hunger Strike Medal by the WSPU.
Olive Bartels, OBE, was a Chief Organiser in the WSPU (Women's Social and Political Union). She was born in Surbiton in 1889 to Marion and William Bartels. Olive's mother had been one of the so called "Nine Graces" – the nine women who were the first to be awarded degrees from the Royal University of Ireland in 1884. Marion was active in suffrage work before and after Olive's birth. Olive, her mother and sisters Margaret and Ruth became busy in the suffrage campaign, selling papers, chalking pavements but it was Olive who rose to prominence working closely with Christabel Pankhurst. Olive travelled around the country, and was sent to Northern Ireland to initiate militancy in the movement there. She acted as a decoy for Emmeline Pankhurst to prevent her being arrested when being sought by the police. She became a local organiser in the East of England, actively campaigning in the Cambridge area. Olive took over from Grace Roe as Chief Organiser of WSPU. Olive accompanied Christabel Pankhurst to America in 1914 but returned home, unhappy with Pankhurst's stance on the war.
She subsequently left the WSPU and went to France with the WAAC (Women's Army Auxiliary Corps) becoming a Chief Administrative Officer, and was awarded an OBE for her work in the War Office and the WAAC in 1920. She joined the National Union of Women Teachers in the 1930s, organising on equal pay and lifting the marriage bar. She joined the Women's Voluntary Service in the Second World War, and died in Kent in 1978.
On 10 January 1918 the House of Lords granted the vote to women over 30 under the Representation of the People Act. It wasn't until 1928 that women over the age of 21 were given equal voting rights with men.
Further information on the Suffragettes
You can explore the below sites to read more about the Suffragettes: