Let your boat of life be light
Our current display features the work of the Louise Anderson, a multi-disciplinary artist and tutor based in the UK with a passion for helping others discover and develop their creativity to maintain their health and well being. Inspired by found objects and archives she uses printmaking and alternative photography techniques to create new narratives.
The Community Case is on the ground floor of Kingston Museum and open to the public during Kingston Museum opening times.
"Jermone K. Jermone hired a boat at Turks Boat yard in Kingston, after travelling from London to start on his two-week adventure with two friends to Oxford and this escapade was captured in Three Men and a Boat. Turks Boat yard still operates today offering pleasure seekers a chance to explore the Thames.
I have chosen to examine this time piece as there is an ability to draw parallels with today's modern society post pandemic of the 21st century and with the upsurge in seeking outdoor solace and a craving for leisure past times today; rowers, dog walkers, cyclists, runners, families, individuals all seeking time out in nature. I have interpreted aspects of this journey through an installation using cyanotype printing, printmaking, textiles and reinterpretation of archival images, and use of found objects - my aim is to conjure up a sense of communing with nature.
Further work of mine can be seen in the current exhibition Creative Flow (in Kingtson Museum's Gallery), 'Idylls of the Self' is based on the Pre-Raphaelite painting of Ophelia (partly painted along the Hogsmill river)." Louise Anderson, November 2023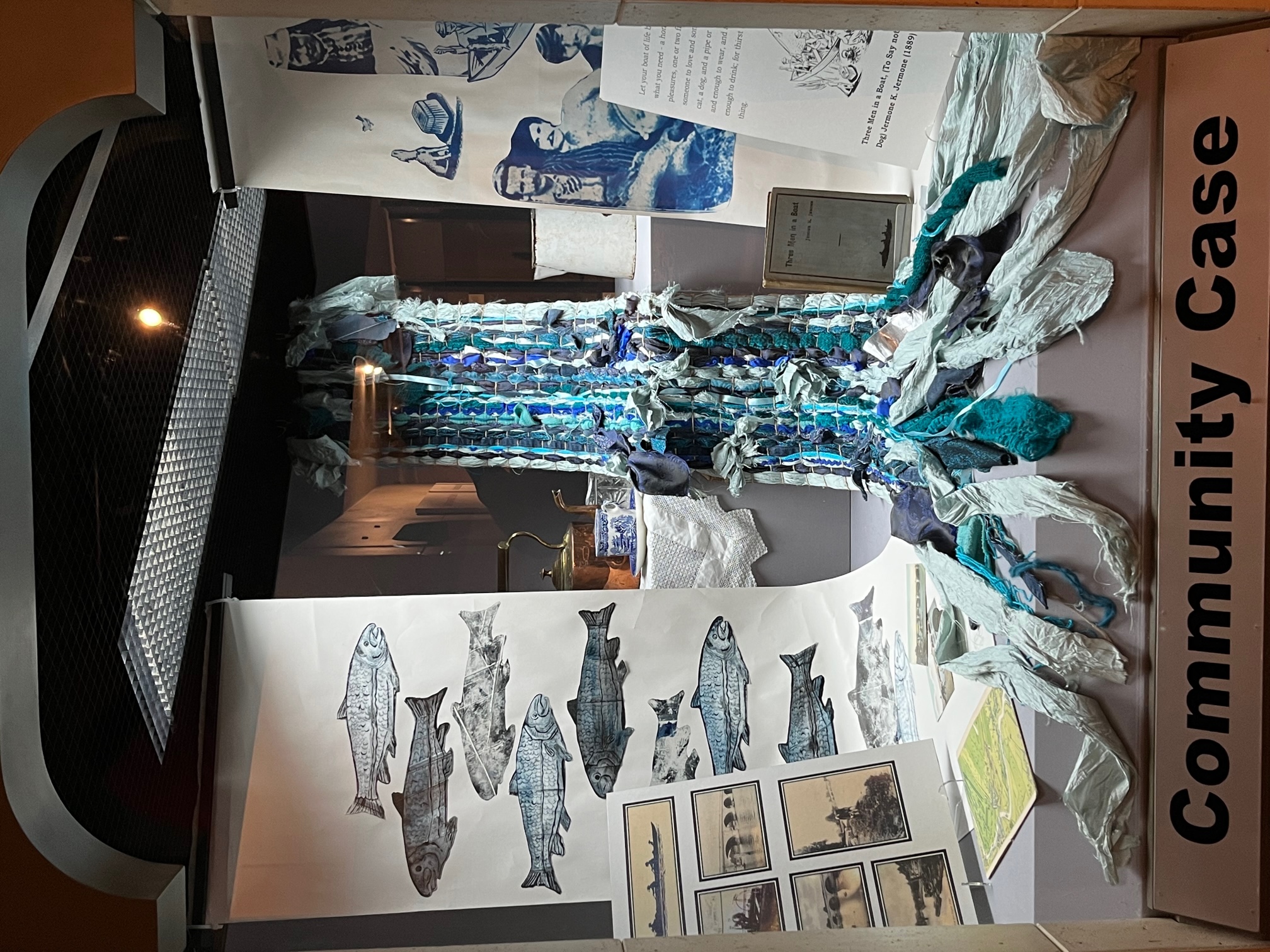 The community display case is available to Royal Borough of Kingston's residents, artists, makers, community groups and local schools.
This is a great way to showcase your artwork, project or organisation. Each display typically stays up for a month, and the case is located in the heart of Kingston Museum.
If you wich to submit an exhibition idea please fill out this form